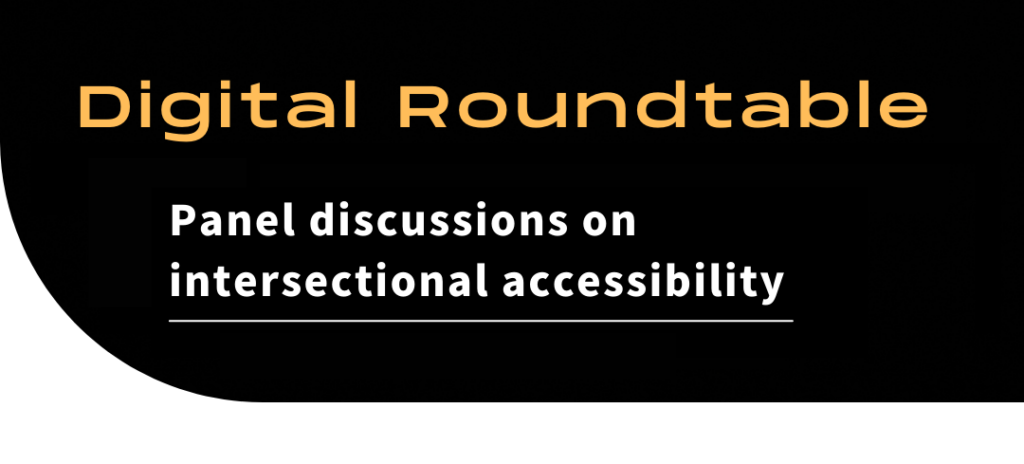 Cinevolution is proud to present two Digital Roundtable events on intersectional accessibility this Spring! The Digital Roundtable Discussions are based on our two-year-long project on providing resources to create accessible online arts programming. Part 1 focuses on how arts organizations can build relationships with communities they do not know. Part 2 explores current approaches to working with underrepresented communities and dream of new methods and processes that art organizations could take.
This event will offer ASL interpreters, captioning, a land acknowledgement, visual descriptions, and 15 minute break. If you have any access needs, please email or phone Accessibility Coordinator Regan Shrumm at regan@cinevolutionmedia.com or 778-803-7150 x 5.
This series was made possible with generous support from Canada Council for the Arts, BC Arts Council, Disability Alliance BC, City of Vancouver and Reel Asian's Codes of Contact initiative.
---
Digital Roundtable: Part 2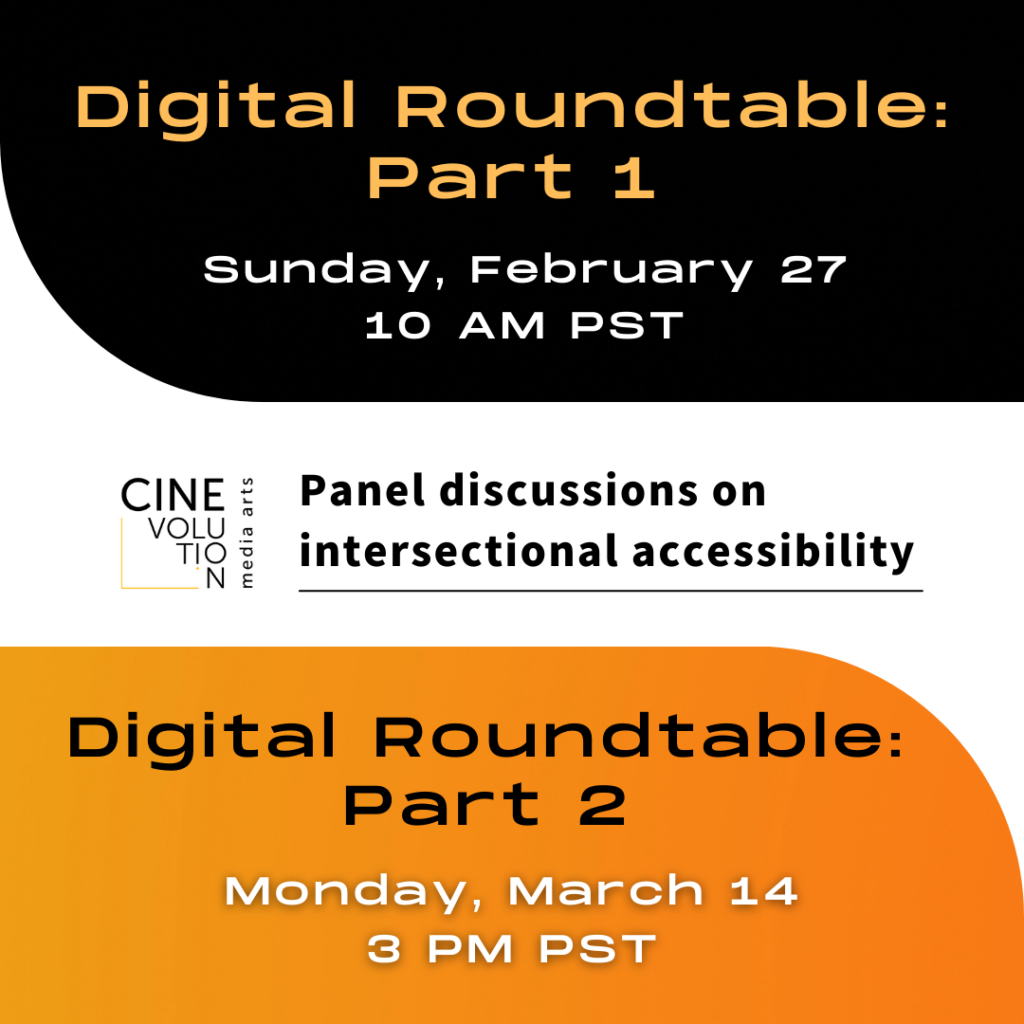 Over the past few years, there has been more and more drive from art organizations to have calls for artists and exhibitions from specific historically underrepresented communities. But often these types of calls offer little to no support with any cultural, physical, attitudinal, financial, and communications barriers that are often common in art institutions. This often leaves artists from these communities not willing to apply, doing the unpaid labour of educating, or just ignoring and keeping their heads down.
Cinevolution invites you to join us on Monday, March 14 at 3 pm PST for a roundtable discussion about intersectional artists' experiences working with arts organizations. The artists will question art organizations' approaches and dream of new methods and processes that art organizations could take. The conversation will feature artists Natasha "Courage" Bacchus, Michel Dumont, Shannon Finnegan, Ebony Gooden, and Hanan Hazime, and Regan Shrumm as the facilitator.
About the Speakers
Natasha "Courage" Bacchus
I am Natasha "Courage" Bacchus, I am former 3 times DeafOlympican Sprinter. Since 2019, I have participated as an actress for "The Black Drum", "The Two Natasha's", "21 Black Futures", TV film Season 4 Netflix "The Corner." I have participated as an art collaborator with numerous theatre and film productions in Canada as an interdisciplinary visual artist, art accessibility consultant, and activist for IBPOC Deaf art community and expanding IBPOC Deaf artists representation.
Michel Dumont
Michel Dumont is a queer Ojibway French two spirited disabled artist, and survivor of inter-generational trauma stemming Indian Day School. He currently resides in Thunder Bay. He enjoys breathing new life into discarded vintage tile by making mosaic pieces. He also works in wearable art, using packing tape, mylar, cellophane and LED lights. He currently has been exploring installation art.
He's shown at Queer Landscapes, Queer Intersections at the John B. Aird in Toronto, and the Queer and Peace Vernissage, Dawson College, Montreal, Art in Resilience, Paris, France, and Mirrored, Muu Art Gallery, Helsinki, Finland. Awarded the 2021 artist fellowship with the Leslie Lohman Museum New York.
Shannon Finnegan
Shannon Finnegan is an artist. Some of their recent work includes Anti-Stairs Club Lounge, an ongoing project that gathers people together who share an aversion to stairs; Alt-Text as Poetry, a collaboration with Bojana Coklyat that explores the expressive potential of image description; and Do You Want Us Here or Not, a series of benches and cushions designed for exhibition spaces. They live and work in Brooklyn, NY.
Ebony R. Gooden
Ebony R. Gooden is a freelance artist, digital media artist and advocate based in Calgary, Alberta. She also owns a Greek restaurant, Mykonos Street Grill. Originally from the US, she earned her BA in digital communication and visual/multimedia arts from Gallaudet University. She is active in the Calgary arts community, consulting on issues of accessibility, diversity, equity and inclusion for visible minority artists who are Deaf or hard of hearing.
Ebony's activism during provincial Black Lives Matter rallies raised the crucial issue of insufficient Black interpreters in Alberta, and across Canada. Her work highlighted the impact of working with interpreters who do not reflect the Black Deaf community and are unable to use Black ASL (BASL).
Hanan Hazime
Hanan Hazime is a multidisciplinary artist, creative writer, community arts educator, and writing instructor living in Tkaranto/Toronto. She also identifies as a Neurodivergent Lebanese-Canadian Shi'a Muslimah Feminist and Mad Pride Activist. Hanan has a Masters of Arts degree in Creative Writing and English Literature from the University of Windsor. Through her intersectional and interdisciplinary artwork, Hanan aims to push boundaries, question arbitrary binaries, and challenge the status quo.
When not writing or creating art, Hanan enjoys reading fantasy and science fiction novels, overanalyzing things, photo-blogging, dancing with faeries in the woods, and drinking copious amounts of tea.
---
Digital Roundtable: Part 1
How do arts organizations build community for individuals and social services they do not know? How do you make sure that the relationship is built on respectful and reciprocal foundations?
Cinevolution invites you to join us on Sunday, February 27 at 10 am PST for a roundtable discussion on intersectional community-building. The conversation will feature artists and art administrators Amy Amantea, Sean Lee, Vasuki Shanmuganathan and Whess Harman, and Regan Shrumm as the facilitator.
About the Panelists
Amy Amantea
Amy Amantea (she/her) is a white settler on the stolen lands of the xʷməθkʷəy̓əm (Musqueam), Sḵwx̱wú7mesh (Squamish), and səl̓ilwətaɁɬ (Tsleil-Waututh) first peoples. As a multi-disciplinary artist who lives with blindness, dyslexia and chronic pain, Amy intersects her lived experience with her theatre-making, storytelling and performance. Amy also works with artists and theatre companies on increasing access and inclusion to the artistic experience, from the perspective of employees, creative teams, performers and patrons. Recent credits include "Emilia" (United Players of Vancouver). Amy works as the Accessibility Coordinator with the Arts Club Theatre Company and as the Community Outreach Coordinator for VocalEye.
Whess Harmon
Whess Harman is Carrier Wit'at, a nation amalgamated by the federal government under the Lake Babine Nation. They graduated from the Emily Carr university's BFA program in 2014 and are currently living and working in the territories of the Musqueam, Squamish and Tsleil-Waututh as the curator at grunt gallery.
Their multidisciplinary practice includes beading, illustration, text, poetry and curation. As mixed-race, transgender artist they work to find their way through a tasty plethora of some kind of undiagnosed attention deficit disorder, colonial bullshit and queer melancholy. To the best of their patience, they do this with humour and a carefully mediated cynicism that the galleries go hog wild for.
Current projects include the Potlatch Punk series, various text-based works, zines, and comics.
Sean Lee
Sean Lee is an artist and curator exploring the notion of disability art as the last avant-garde. Orienting towards a "crip horizon", he is interested in the transformative possibilities of crip community building and accessible curatorial practices that desire the ways disability can disrupt.
Sean holds a B.A. in Arts Management and Studio from the University of Toronto, Scarborough and is currently the Director of Programming at Tangled Art + Disability. He also is a member of the Ontario Art Council's Deaf and Disability Advisory Group and Toronto Art Council's Visual Arts / Media Arts Committee.
Vasuki Shanmuganathan
Vasuki Shanmuganathan is an artist, curator, and researcher. Her art and curatorial practice engage with archives of the mundane and symbiotic forms of connections such as communal care. She holds a Ph.D. from the University of Toronto. In 2016, she started the Tamil Archive Project (TAP) collective, which combines art, knowledge, and archives into events that centre care. She curated exhibitions for The Public Gallery, Lakeshore Arts and Scarborough Arts. She was previously Assistant Director of Mayworks Festival, Chair of Whippersnapper Gallery, and currently a Research Associate with the Race, Ethics, Power project at the University of Toronto