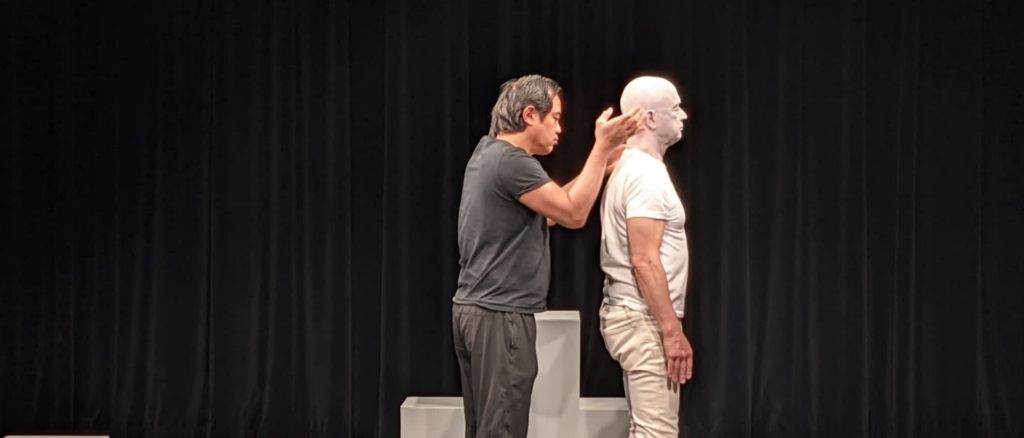 An ongoing project by Kagan Goh, Surviving Samsara is a deeply personal story that traces the artist's struggles with manic depression. Drawing on a collection of poems and short stories written over a period of 20 years, Surviving Samsara offers an 'insider's' experience of madness and traces Kagan's journey towards recovery, acceptance and unconditional self-love. The project seeks to expose the damaging effects of the stigma on mental illness, and to explore manic depression not only as a disorder but as a spiritual emergence – a vehicle for personal growth, healing and transcendence. This interdisciplinary project is co-produced by Cinevolution and Theatre Terrific.
Surviving Samsara was initially conceived as a multimedia, multidisciplinary theatre production weaving together spoken word, performance, live music, video, and dance. Over time, the project has grown to include several performance readings, the short film The Day My Cat Saved My Life (2020) and, most recently, Surviving Samsara: A Memoir of Breakdowns, Breakthroughs, and Mental Illness published by Caitlin Press and shortlisted for the 2022 Singapore Literature Prize.
Cinevolution is currently working with Kagan to produce a second short film based on an excerpt from his considerable body of work. Entitled Common Law, the film tells the true story of Kagan's experience navigating the welfare system as a racialized young man struggling with manic depression, where the cold impersonal bureaucratic system led to painful family altercations and relationship breakups, and further disenfranchisement and isolation.
Meanwhile, Kagan continues to work with Creative Collaborator Susanna Uchatius and Butoh dancer Jay Hirabayashi to develop Surviving Samsara as a theatre production for Theatre Terrific's 2024 season.
Presentations
October 10 – November 1, 2021

Mental Filmness Festival (Chicago, IL)
Online presentation of The Day My Cat Saved My Life

May 31, 2020

Still, Life Festival (Vancouver, BC)
Virtual performance reading of two excerpts from Surviving Samsara.

November 2018

The Annex (Vancouver, BC)

June 15 and June 29, 2017

The Interurban Gallery (Vancouver, BC)
A multimedia multidisciplinary theatrical performance featuring: KAGAN GOH – Actor & Spoken Word Artist, SALOMÉ NIETO – Butoh Dancer & Choreographer, ANGELO MORONI – Director & Composer/Musician, JUJUBE JACINTO – Rapper, RENA DEL PIEVE GOBBI – Filmmaker
Acknowledgements
The producers of Surviving Samsara acknowledge and thank the following sponsors:
BC Arts Council
City of Vancouver
Canada Council for the Arts
Downtown Eastside Centre for the Arts
DTES Small Arts Grant
Interurban Gallery
Kettle Friendship Centre
Portland Hotel Society
Vancouver Foundation